Isomara Island ARPG is currently in Early Access. While in Early Access, you may find some pages unavailable (404s) and missing or placeholder art and images needing to be added or replaced.
Consider supporting the developer's and artists' continued efforts on this ARPG and, in return, receive in-game items, virtual currency, critters, and the luxury of being at the front of the line to register using an Early Access Invitation Key. Early Access registration begins on June 2nd.
Welcome to Isomara Island
Isomara Island is an online Art Role Playing Game️ (ARPG). Create a character or adopt a premade one and complete prompts through drawings or written fiction to develop your characters, earn items and virtual currency, and shape the future of the island.
The primary species of the ARPG, Isomara, are fluffy semi-aquatic dragons but are not the only playable characters here. There are plenty of unique creatures and wildlife across the island and surrounding sea. Develop your character's personality and story by completing prompts, forming families, training their skills, and exploring the vast island and beyond.
With plenty of activities to do, prompts to complete, items to collect, and characters to meet and more added regularly, there is much to explore and fun to be had!

Check out the Beginner's Guide on how to adopt/create your first character and start earning in-game currency and items.

Don't have an account yet? Register now!
(Already a member? Be sure to grab your freebie bundle from Slay's Concessions!)
Recent News & Updates
3 days ago
Past Update Journal: Iso-Island 6.4
View all past Update Logs
Weekly updates will become more frequent as we continue to work on the website.
Website updates, changes, and fixes are from the previous seven days and have already been applied to the site.
DeviantArt Group updates, changes, and fixes will take effect and go live soon after this post is live (All of these have already gone live on the website version)
---
Website Updates
Updates
Added respective art banners to Queen's Cache and Tide Pools pages
Added Island map to map page along with biomes descriptions with links to notable locations such as shops and creatures that can be found
Added copy to clipboard function to quickly copy a character's masterlist ID
Implemented The Wishful Well. We are bringing back the old Wishful Well game, where users can toss items into the well in hopes for a wish to be granted.

The features and limitations of the game are being finalized
Note that the DeviantArt version of the Wishful Well will remain offline
Changes
Removed training permissions from companions as they do not have stats
Removed height fields from companions
Fixes
Resolved issue with inability to companion characters together
Added missing Exploration page link to Beginner's Guide
Fixed a bug with submitting reports and comments
---
DeviantArt Group Updates
Updates

Exploration Reward Balancing
Increased min amount of Feathers able to find in Jungle from 0 to 1, increased max from 3 to 5
Increased min amount of Skrill able to find in Ocean from 0 to 2
Increased min amount of Scallops able to find in Ocean from 0 to 1
Increased min amount of Seashells able to find in Snow from 0 to 2
Increased min amount of Flowering Quince able to find in Snow from 0 to 1
Increased min amount of Witch Hazel able to find in Snow from 0 to 1
Increased min amount of Peanuts able to find in Infected from 0 to 2, increased max from 7 to 9
Increased min amount of Potatoes able to find in Infected from 0 to 1, increased max from 2 to 3
Increased min amount of Grapefruit able to find in Infected from 0 to 1, increased max from 2 to 3
Increased min amount of Seashells able to find in Pelemoku from 5 to 10
Increased max amount of Crabs able to find in Pelemoku from 1 to 2
Increased max amount of Bones able to find in Pelemoku from 1 to 2
Increased max amount of Obsidian able to find in Pelemoku from 1 to 2
Increased min amount of Flowers able to find in Pelemoku from 0 to 1
Increased max amount of Teeth able to find in Pelemoku from 1 to 2
Increased max amount of Crab able to find in Coral Reef from 1 to 2
Removed Items
These items have been removed from the ARPG. Anyone who owns these items currently have been refunded the equivalent Sand Dollar/Seashell amount.
Gender Remedy
Bond Certificate
Changes
Renamed Coconut Shell to Coconut Husk
Replaced Gender field to Gender Identity field and added Personal Pronouns field

Originally when the ARPG was created, we kept the same simple guidelines that many other ARPG and species communities used where gender was the biological sex and kept breeding simple. The way the ARPG handles gender/sex has become unrestricted as this is not a breeding-focused ARPG and does not need to be policed. We will no longer restrict the "gender" field to only male and female. A character's genitals are between themself, the owner player, and anyone the owner choose to share the information with. Any Isomara will be able to court with another no matter gender/sex, and any items related to same-sex mating if any, will be removed from the game. Now the field of gender and personal pronouns will be simply additional character information if the owner chooses to display it.
You can add your character's gender identity and personal pronouns by commenting on the UPDATES thread of their masterlist import on

IsomaraIndex

 

 






The website Masterlist pages will have an edit button allowing the character's owner to change gender identity and personal pronouns whenever they see fit!

---
1 week ago
You heard right. Early Access begins June 2nd. Support Us to receive an invitation key to register for an account starting June 2nd. In-game rewards will also be added to your account if you support us once registered. 
If you are reading this right now, you might be one of the first members of the site. If so, Hi! We are happy to have you here! Please send over any feedback, bugs, and questions you may have to the Support Center. 
During Early Access, we will diligently work on porting over all activities, species, and world information and updating placeholder artwork. A development roadmap will be available during Early Access.


---
2 months ago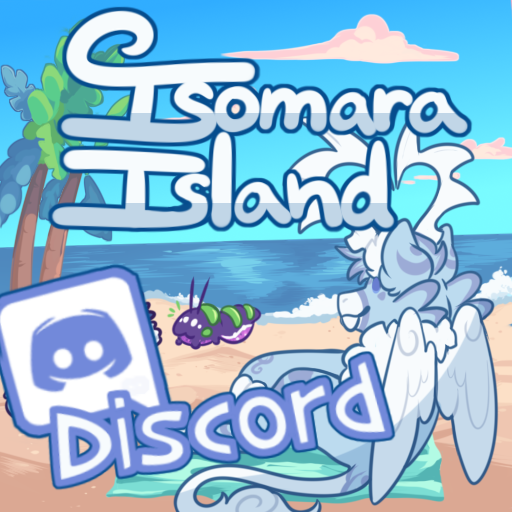 The Isomara Island ARPG official Discord Server is back and available to the public!
Our Discord is a great place to chat and get to know fellow members of the community.
News, updates, and events will also be posted to Discord for those who are avid lurkers and want the news as soon as it's live!
Invite Link:
---
After a hectic month and the old server being wiped after a malicious hacker attack we have brought back the server from the ashes like a majestic phoenix. If you remember the old server then you may notice the removal of some channels which we deemed outdated or no longer useful as well as some new features! 
These new features include converting the Ask an NPC, Questions and Answers, and Suggestion-box channels into proper thread channels. Threads will also the staff to better assist and communicate with members without confusion and muddy conversations. Please be sure to check the post guidelines before making a new thread in these channels.
---
Recent Character Adoptable Sales
Isomara of the Month
Companion Species of the Month
Newest Items
Featured Achievement

Prompt of the Month
Pepper Breath
#1 Tale - Pepper Breath
Featured Game
Queen's Cache
Attempt to pilfer from the Queen Memora's treasure trove!
Recent Events & Contests
Current Event Title
Winner: TBA
Current Event Title
Winner: TBA
Current Event Title
Winner: TBA
Current Event Title
Winner: TBA
Current Event Title
Winner: TBA
Current Event Title
Winner: TBA