Posted 2 months ago :: Last edited 2 months ago by
NPC
Hello villagers,

    Thank you for all the support thus far! Summer is here, and while I want to lounge in the pool all day, I have work to do on this website to make it better for myself and all of you.

     A month ago, we launched the Isomara Island ARPG early access. Since then, two small updates have been released, addressing bug fixes and added features. Today we will dive into the current site development roadmap, updates to the DeviantArt version of the ARPG, and review known site issues.
---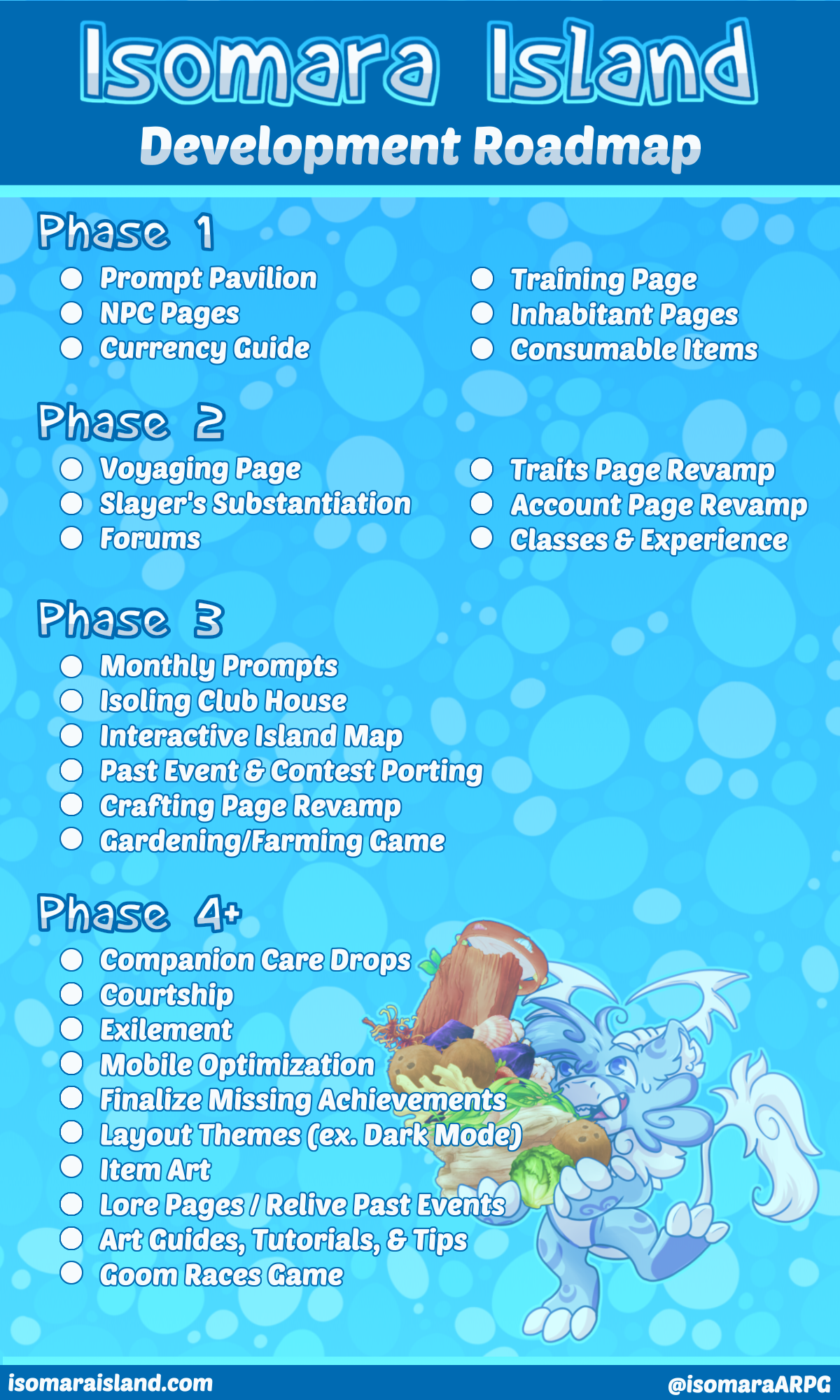 Isomara Island Development Roadmap
Phase 1
During phase 1, we will finish porting base pages and implementing the core features of the Isomara Island ARPG.
Prompt Pavilion

Will include a new page layout to incorporate the familiarity of the DA version and additional features such as quests.

NPC Pages

Dedicated pages for each NPC that will include general information, and quick links to stores, games, and classes they run

Currency Guide

Updated guide on how to earn in-game currency and take a look at economy balancing

Training Page
Inhabitant Pages

Separate pages that detail each island species, behavior, anatomy, and other relevant information

Consumable Items

Phase 2
Additional mechanics and advanced activity implementation
Voyaging Page
Slayer's Substantiation Daily Activity

The one-time quiz converted into a daily activity with a single question each day

Forums
Species Traits Page Revamp

Updates to the traits page to display visual, updated information, and examples

User Account Page Revamp

The /me page, when logged in, will be getting an overhaul to include more relevant links and visuals

Classes & Experience

Phase 3
Fleshing out areas of the game to include more details, systems, and features
Monthly Prompts
Isoling Club House
Interactive Island Map
Past Event & Contest Porting

With DeviantArt's Eclipse changes, many old contests and events can be hard to read and look at. The aim is to port these near 1 to 1 (with a few visual updates) so we can all look back fondly on some old events

Crafting Page Revamp

Concise page overhaul that details how to craft along with all recipes you know/do not know

Gardening/Farming Game

Phase 4+
Companion Care Drops
Courtship
Exilement
Mobile Optimization
Finalize Missing Achievements

○ Only some character achievements are on-site. The aim is to narrow down and implement the rest, so users can finally fill all 49 spots in their character's achievement basket

Layout Themes (Ex. Dark Mode)
Item Art
Additional Lore pages / Relive past Events
Art Guides, Tutorials, and tips
Goom Races Game

*Note - Topics listed above may be pushed to earlier or later phases. We will continue to update our player base through on-site news, DeviantArt, and Twitter.
Bugs Fixes And Addressing Feedback
We will continue addressing feedback and resolving bugs and other reports throughout the four development phases. We openly accept and look at all feedback, comments, and issues and will respond to all sent. As I am only one person with one eye and brain, there are times when I will overlook a design element or feature that may not read clearly to players, so I appreciate even the smallest of notes that can serve to improve the site and gameplay.
---
DeviantArt Version Of The Isomara Island ARPG
The official site will not be fully replacing the DA version. The Isomara-Island ARPG group will remain intact and open. However, some activities and games will be closing over time. All content below refers to only the DeviantArt group version of this ARPG. Nothing is closing on the website.
Activity & Game Closures
As the development of the official site continues, some games and activities will sunset on the DeviantArt version of the ARPG. These are the upcoming activities and games closing and their wrap-up dates.
After the corresponding date, the DA version of that activity/game will no longer be available to play. You can still play them on this site.
Immediately - July 1st (Today)
Features of the Month
Monthly Prompts

Monthly Features such as characters, companion species, featured achievements, items, and prompts have been fully ported to the official site. The monthly site prompts have not been implemented but are currently in the works under phase 3 of the development roadmap

Companion Care Drops

This was silently dropped some time ago as use waned. There are plans to bring it back on the official site in phase 4 of the development roadmap

Saturday - July 8th
Queen's Cache [ DA Version | Site Version ]
Tide Pools [ Site Version ]

An automated version of both of these daily games is available on the site. There are also prompts for each, where users can receive additional rewards for including artwork or literature.
Sunday - August 6th
ARPG Import Uploads

On August 6th, we will no longer add Isomara and companions to the IsomaraIndex master list account. If you purchase an adoptable outside the site after this date and want to participate in the ARPG, you will need to be a member of the Isomara Island Official Site and submit a claim to have the character ported to the master list and be useable in either version of the ARPG (DeviantArt or Website)

Sunday - September 3rd
Visual Import Updates

After September 3rd, we will not take any more requests to update the visual master list imports on the IsomaraIndex account. Staff does not have the time to make alterations to the visual, save, and update. We previously and will continue storing the .psds and .pngs of these import images but will not make any new changes.
---

Known Issues
While in early access, there are numerous bugs, work-in-progress pages, and missing images. We are aware of various issues and want to be vocal about what we know is occurring and that we are currently working on improvements and implementation.
These are a list of bugs and issues currently known on the website. We plan to address and resolve these issues throughout the four development phases.
Aspects of the site are not functional on mobile devices (Phase 4)
Roll rewards of "Nothing" are not clear when presenting this information
Foraging loops and shared stamina confusion
Users can simultaneously open both the Tide Pool and Queen's Cache page and cast/pilfer from both. This causes a bug where the user will lose out on one stamina as the claim reward will only have one and not both.
User badges do not stay confined to the box on user pages
Selecting a critter on a user page takes you back to the top of the user page
404's & WIP - Not Implemented pages
Any pages currently on the site that display a 404 or are seemingly empty of content are known to be missing and not ready to be added to the live site or are a work in progress in being ported over from the DeviantArt journal. We have done a full scrub of the site and are fully aware of these pages.
Please keep the feedback coming, and we hope you enjoy your time on the island.
Until next time,
       - Slayer, The One and Only Island Tour Guide
---
Comments
There are no comments yet.
Authentication required
You must log in to post a comment.
Log in